A little bit about me & my studio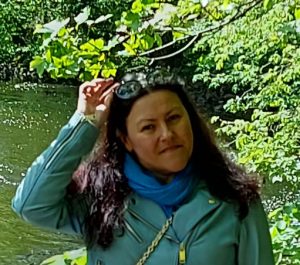 Hi. My name is Marita. I'm a web designer and web developer. I live and work in Paisley in Renfrewshire (previously in Johnstone). I run my own web studio called: Web Studio Marita.
Web Studio Marita was established in 2010.
Designing and coding web pages, as well as HTML emails is not only my job – it's my passion and therefore I approach individually, professionally to each order and each client, and I do my work so that the both sides are very pleased with the result. Every customer can count on my full commitment to the project done by me.
*Above, at the header ↑ you may see my actual working desk picture.
History of my education and work
In 1999 I graduated from the faculty of chemistry at the Nicholas Copernicus University in Toruń in Poland . After that, I successfully finished a course of computer graphics and began a six-year job as a desktop publisher in Publishing House "LOGO" in Bydgoszcz. I worked there as the typesetter and the editor of computer typesetting.
I dealt with the computer typesetting of books, which were issued for the purposes of academic publications as well as articles for magazines, leaflets, advertisements, business cards etc.
Then I moved in to Scotland, where I undertook studies at the Reid Kerr College in Paisley and then at the University of the West of Scotland (Paisley) majoring in multimedia and web development. While studying, I had the professional practice in companies 4STechnologies Ltd. and CO2 Design Ltd., and then I started to work for both companies as a self assessment employee.
My duties included programming and coding of the web pages by using HTML and scripting languages such as JavaScript, PHP, JSON, AJAX and ASP. Moreover, I deal with creating HTML emails and professional e-commerce websites and create applications for customers on social media sites and connection between the social media and customers' websites.
I develop websites and Internet applications. It is an exciting, interesting and totally absorbing job. If you think that I am the best person, that can create your professional website (business or personal), please contact me, use the form or other forms of contact indicated here »